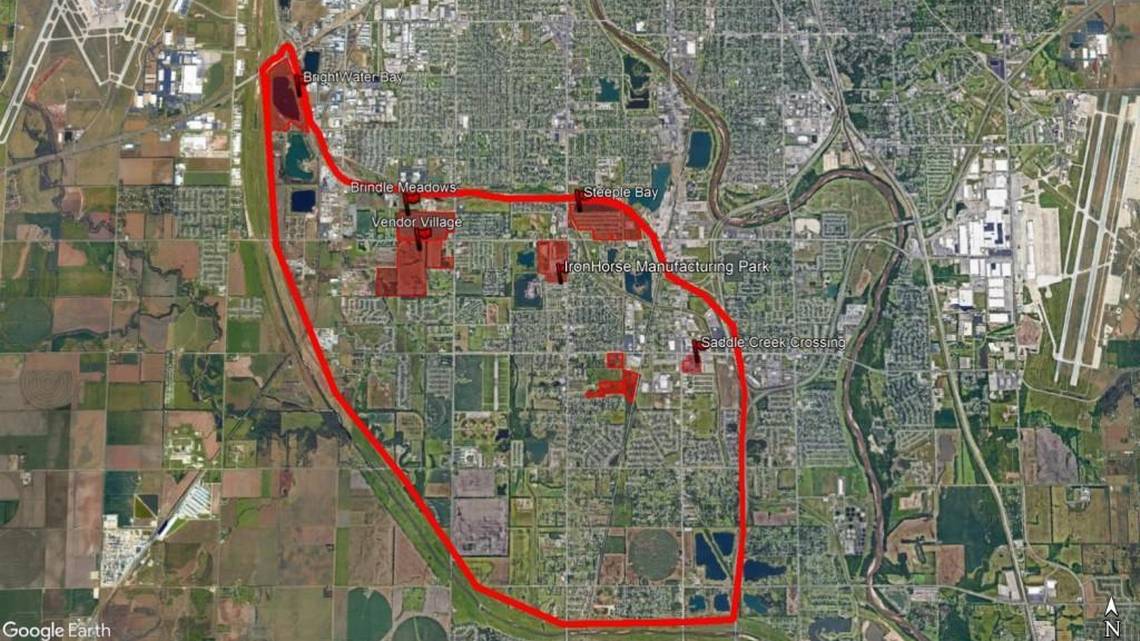 This week's news about Wichita's south side landing Camping World and Gander Outdoors was big, but what Jeff Lange and his teams at Lange Real Estate and Triple Crown Realty Trust plan for the area next is even bigger.
They're branding 13 square miles - from I-235 on the north, I-35 on the east and the Big Ditch on the west and south - the CrossGate District and plan a $200 million to $300 million investment there in the next three decades.
"We realized this area of Wichita and northern Haysville really didn't have an identity," Lang says.
He also realizes there's more than an identity problem given the lack of much development in decades.
"Obviously, taking on this whole CrossGate District is not for the meek and mild."
Properties include:
The new 80-acre Steeple Bay multiuse development at I-235 and Seneca where Camping World and Gander Outdoors will go.
The new 54-acre IronHorse Manufacturing Park, where this week Hyper Pet is moving its headquarters to a 103,000-square-foot spec building that Lange built in 2017 and where he has another 100,000-square-foot spec building in the design phase.
The proposed 135-acre vendor village, which could be a distribution park for vendors of major businesses, such as nearby Spirit AeroSystems and Textron Aviation, or more industrial space.
The proposed almost 70-acre Brindle Meadows, which potentially will be senior living.
Saddle Creek Crossing, the longtime retail center at 47th and Broadway that used to be known as South City Center.
The 44-acre BrightWater Bay, which used to be known as Keeler Lake, that can be rented along with tennis courts, pickleball courts, a sandy beach and a future venue and overnight lodging.
"This is a big project," Lange says of CrossGate. "It takes a lot of people saying, 'Yes,' and being willing to listen to … what may seem like our outrageous ideas."
County commissioner Michael O'Donnell calls Lange and his partners visionaries and doesn't see anything outrageous about what they're doing.
"It could be just transformational," he says. "Hopefully what this will do is start a fire for development in south Wichita."
Wichita City Council member Jeff Blubaugh thinks it will.
"You're going to see more growth in that area than anywhere else in town over the next 20 years," he says.
For any naysayers out there, Blubaugh points to the Camping World and Gander Outdoors deal. It's arguably the biggest for south Wichita in decades, though Blubaugh thinks it's even bigger.
"I'll go so far to say that's the biggest news for south Wichita ever." 'Why not?'
Lange developed a mobile home park, Southborough Estates, in south Wichita in the late 1980s and never left. In fact, his office – where he runs a half dozen companies, including the international RedGuard – is in a double wide mobile home on a permanent foundation at 4911 S. Meridian.
"We've grown multiple businesses here in this area," he says.
It's the growth of the almost 200-employee RedGuard, which builds mobile blast-resistant structures, that prompted Lange to decide to expand beyond its three sites in the area and help that whole section of town grow.
"Why just add on for ourselves?" he says. "Why not take that and make something bigger than ourselves?"
A bonus is that the city had already made investments in streets and utilities years ago.
"All of that's already in place, yet it's not being fully utilized," Lange says. "We're actually creating a payback for taxpayers from decades ago."
The area also is especially accessible with I-235 and I-35 bordering it and Kellogg a short hop away.
"Honestly, south Wichita is a huge opportunity zone for investment and development," says City Council member James Clendenin.
Blubaugh agrees and calls it "the greatest opportunity in Wichita."
Lange created Triple Crown, a real estate investment trust, to seize that opportunity.
He and his daughter, Rachel, and Greg Gaeddert and Dan Schulte of Kansas City-based B12 Real Estate Advisors are managing partners. There are 80 other investors.
"We've built a rock star team of guys to drive this," says Jeff Lowrance, property development manager for Lange Real Estate.
"That REIT is what's driving what's going on here," Lange says. "The Lange group could only do so much so fast."
Gaeddert, who used to live in Wichita, says southwest Wichita is similar to what Wyandotte County used to be outside of Kansas City, Mo.
There didn't used to be much retail or lodging there, he says, "But there were activities that kind of brought you through and around that area."
Access to the airport and nearby interstates is similar, too.
Gaeddert says Camping World and Gander Outdoors now can be the catalysts to help CrossGate grow like Wyandotte County did.
"It's exciting for Wichita."
Blubaugh says Lange is open to other developers being active in the district.
"Overall, he's looking for the best utilitarian decision for Wichita."
Lowrance says that's correct.
"We want other people to see what we've done and replicate it because we can't do it all ourselves."
Blubaugh says there's a genuine need for development.
"I've heard from constituents over and over."
Lowrance says residents "don't have any places … to go shopping or buy their groceries or entertainment."
"It's ripe for development."
Lange's development strategy is to work from the outsides of the district – along the interstates where the properties are most visible – and work inward cleaning properties and readying them for future development.
He says CrossGate is ideally situated between Spirit and Textron.
"We feel like there's opportunity for those suppliers to them to just be within just three or four miles of one of their major plants."
Suppliers and vendors could be a huge driver for the district in general, Lange says.
"We think that the Cargills, the Kochs, the Spirits, the Textrons of Wichita can do what … Walmart did for Bentonville in northwest Arkansas. Bentonville wasn't on the map before then. Wichita isn't on a lot of people's maps today."
Cargill gave CrossGate a serious look for its new headquarters before selecting the former Wichita Eagle site at 825 E. Douglas.
"I still feel like Cargill would have been better served to be in our district," Lange says.
He says the company could have made "a huge difference to Wichita" by attracting new businesses around it in CrossGate.
"I know that some believe they made a huge difference to Wichita by moving four blocks east and staying downtown. I don't see it that way."
Lange still sees it as a positive that Cargill seriously considered CrossGate.
"That Cargill deal came before we ever dreamed we'd be chasing such a possibility," he says.
"We actually are feeling like we're ahead of schedule." Wichita strong
Lange hired Bill Gardner of Gardner Design to brand the district. He says Gardner helped him define the area with natural boundaries, though the district could grow through the years.
Gardner chose names that in part played off some of the equestrian farms in the district.
There are a lot of youth sports in CrossGate along with parks and recreation, and Lange says he hopes to create more.
Creation is a huge goal for Lange, he says, as is attracting businesses that aren't already in Wichita.
"That's why Camping World and Gander are such big deals."
O'Donnell says the city rightly has invested a lot of time and money in the city's core downtown, but now the focus needs to shift.
"We need our southern region of the city … to get the attention now," O'Donnell says.
"I tell people, when south Wichita's strong, all of Wichita's strong."
Read more here: http://www.kansas.com/news/business/biz-columns-blogs/carrie-rengers/article205018679.html#storylink=cpy
---